Custom Window Treatment Services in Montreal, Quebec
Honeycomb Blinds | Window Coverings | Cellular Shades & Blinds | Pleated Blinds
Canada Window Treatments for Tilt and Turn Window, Folding Doors and Narrow Depth Window Trims.
Montreal has a segment of the Berlin wall
In recognition of Montréal's 350th anniversary in 1992, the city of Berlin donated a small section of the infamous wall that once divided East and West Germany. The concrete piece is located in the Ruelle des Fortifications, adjacent to the Montréal World Trade Centre, which itself is a crossroads of international trade, a site of openness, tourism, and transit.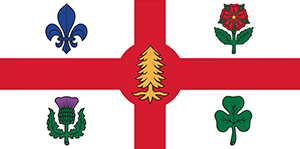 Montreal is ready for a new face to the window treatment market. As progressive as this city, Fenstermann blinds and shades are the perfect match when it comes to shading windows and doors. Minimalistic pleated blinds and honeycomb shade that are only 25 mm in depth, work perfect for almost any inside mount installation. And if you are looking for new, fresh, interesting, and hip fabrics, look no further. We have over 500 fabrics in pleated fabrics and 230 fabrics for our honeycomb collection.
Fenstermann LLC offers narrow depth blinds and shallow shades to cover windows with beautiful trims. We work exclusively with German manufacturers to provide superior blinds and shades for European-style tilt and turn windows.
Our clients love how easy our window shades and window blinds can be self-installed. All our window shades are delivered directly to your door and include everything you need for the installation.